Custom Electronic Controls
GAMA Electronics is a full-service manufacturer of custom electronic controls and assemblies. Our electrical and mechanical engineers will take your project from concept to production. Our product offering spans across many unique markets including, but not limited to, automotive, agricultural, power management, marine and industrial. Our design staff is always eager to take on a new challenge. All design, development and manufacturing is done in-house at our Woodstock, IL facilities.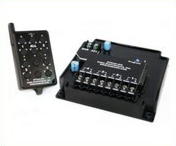 Our Capabilities
We are a full service supplier; we design what we produce.